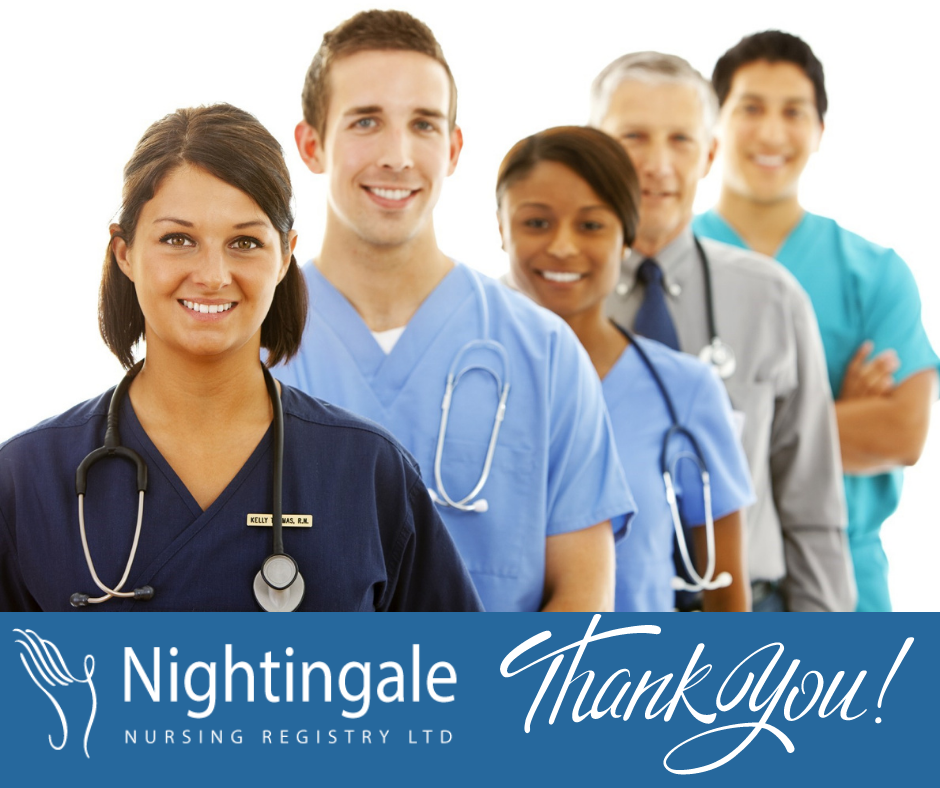 APPRECIATION FOR OUR PSW's & NURSE'S
🎄 🎄
Every day, Nightingale PSW's and Nurses show compassion and the utmost commitment to their clients! To show appreciation for these heartfelt acts, Nightingale is giving every employee a turkey in December! But this year we want to give something "special" to recognize the front-line caregivers who really exhibit the principles of Nightingale.
If you can think of a very special Nightingale PSW or Nurse that made a profound difference in your life or family member's, then please tell us and make sure to use their first name and first initial of last name only (for privacy purposes).
We will give each name you identify an "extra special gift" this holiday season - to recognize the "special gifts" they have given you!

Home Care Ontario's Statement Regarding PSW Wage Enhancement Extension
"Home Care Ontario welcomes today's announcement of a further extension of the $3 PSW wage enhancement. We have strongly advocated for this as it is critical we acknowledge and recognize the valuable work performed by PSW's and other participants in the broader healthcare sector. In this regard, it is important to recognize the thousands of PSWs providing family-funded care who, while not included in this policy, play a key role in helping deliver care to thousands of seniors across the province every day.
It is time, however, to move past temporary solutions and make this wage increase permanent.
The wage enhancement is only one part of the solution as it does little to address the wage disparity that exists when home care PSWs are still paid $4-$5 less than in long-term care to do the same job. The government's investments in the Long-Term Care sector during the pandemic, while needed, have not been accompanied by corresponding support for Ontarians receiving care at home. That has only worsened the disparity and caused an exodus of workers from the home care system. Home Care Ontario has been sounding the alarm for months that the home care system is now in crisis. We are calling on the province to help address this crisis by making an immediate $600M investment to ensure our seniors receive the care they want, where they want it - at home."
- Sue VanderBent, CEO, Home Care Ontario
See Ministry of Health's full press release here.
The Home Care Ontario Team

Home Care Tax Credit
How Ontarians can help influence government
Home Care Ontario is pleased to announce that we are asking the Ontario Government to consider a Home Care Tax Credit in the Spring 2021 Budget.
And now we need your help!
Introducing a tax credit is one of the best ways the government can help support seniors living at home, and we know we need thousands of seniors to tell them this is the case!
Please feel free to send this information to your friends, family, groups and communities that you feel would benefit from a Home Care Tax Credit.
Please take a moment and visit know homecaretaxcredit.ca to send a letter to the province right now and join the chorus of seniors and their families calling for this important tax credit.
COVID-19 has demonstrated just how vital home care services are in keeping seniors healthy and safe. Across Ontario, family-funded home care services help seniors to live more independently, remain in their homes for longer, and avoid accidents and illnesses that could cause them to leave their homes unnecessarily. This is why we are calling on the Ontario Government to create a Home Care Tax Credit for family-funded home care services.
Please, visit homecaretaxcredit.ca and with a few simple clicks you can send a letter of support to the province today.
This will go a long way towards helping us achieving our goal of building an Ontario where every senior can live at home for as long as possible.
The Home Care Ontario Team
Aging at Home IS Possible
The demands and responsibilities of a family can be difficult especially when you have growing children on one side and aging parents on the other. Let Nightingale assist you in caring for you and your loved ones. Anything from picking up the groceries to providing post-surgical care. Our qualified, compassionate health care professionals are available 24/7 when you need them and have been for 35 years. We know you have a choice when selecting your health care provider, choose Nightingale, "Our Caring You'll Remember".
The Nightingale Difference
Compassionate – Caregivers That Truly Connect With Their Clients' Needs
Reliable – We Provide The Assurance You Need That Care Is Delivered On Time, When You Need It
Consistency of Caregiver – We Value the Relationships We Build
Skilled – Specialize in Alzheimer's, Dementia, Mechanical Lifts, Medication Management and Many Additional Areas
Educated – All Our Caregivers Hold Certificates from Accredited Colleges
Professional – Translates to Respectful, Dignified, Confidential Home Care
Testimonials
"We can't tell you how much it means to us that our mother is cared for and treated with respect every day."

- Children of Loraine (76)

"All our questions, no matter how small and trivial, real or imagined, were always addressed with empathy and concern."

- Debbie and Doug D., Buckhorn

"We do not know how we could have let dad stay in his own home these many years without your help with meal preparation."

- The Carter Family, East Peterborough and Norwood

"Many thanks for the excellent care you gave my mom. Your kindness and compassion to her, as well as us, was much appreciated."

- Hellen J., Peterborough

"My husband Joe had a knee replacement; joe's short hospital stay would mean that he would need nursing services at home. We are grateful for all of the wonderful nurses at Nightingale for their tender loving care and expertise they showed over the last few months."

- J&D Martin, Havelock

"I have been blessed by my Nightingale Home Caregivers. Without their care, concern and competency I would be unable to remain in my apartment."

- Nancy W., Lakefield

"I want to take this opportunity to congratulate Nightingale on the excellence and flexibility of the services you provide. Although I should not say so, the amount in what you charge for these services is acceptable however, I would be prepared to pay more for the quality of service provided."

- Dr. Kurt K., Retired to Lakefield

"I am a new client of Nightingale and have recently moved to Lakefield. I live by myself and have hired Nightingale for RPN and snow removal services. It gives me great pleasure to praise my RPN for the excellent service she has provided."

- Ethel D., Lakefield

"I want to compliment your maintenance professionals on the excellent yard cleanup and grass cutting provided. I will be calling back to schedule maintenance regarding eaves trough cleaning, renovations and continued property maintenance as I trust Nightingale."

- Bob N., Peterborough

Previous

Next

Names may have been changed to preserve confidentiality.
Nightingale News
Dr. Margaret Denton raises many important issues in her Spectator column on ageism (Nov. 25). As Dr. Denton appropriately points out, "ageism" — the practice of discriminating against people based solely on their age, is a problem in our society today. From our perspective, the most devastating form of ageism is insidious and entrenched in our health […]
Read More… from Our Ageist Health-Care System Must Be Reformed
See More News